Weekend in Denver: Artwork, Craft All the pieces + Tiptop Eating within the Mile Excessive Metropolis
Denverites will be quick to point out to folks from the Bay Area that there's nothing much to see or do in the Mile High City.
But the owners of all those California license plates rolling around Colorado aren't falling for it—the state and its energetic metropolitan heart have been capturing San Franciscans with nature-centric vacations for years and, more recently, is drawing transplants thanks to the lower cost of living and chill pace on the front range of the Rocky Mountains.
Denver and SF share much in common as tech hot spots surrounded by natural playgrounds, hills, and mountains. Like SF, Denver offers endless opportunities for outdoor sports; superb museums, gardens, and public parks; a burgeoning and award-winning dining scene; and legal weed. Both cities are also United Airlines hubs, which makes travel between the two a cinch—flights are just two-and-a-half hours nonstop.
From Denver International Airport, you can catch a train directly to Downtown Denver's Union Station, where you can even stay at one of the city's most stylish hotels. Once you're checked in, here's how to make the most of a long weekend in Denver.
Where to Stay in Denver
If the street art scene in RiNO and craft cocktails at Death & Co. are your thing, then Denver's 50-room Ramble is your boutique hotel. (Courtesy of The Ramble)
The Crawford Hotel
The golden age of train travel lives on at the Crawford Hotel, which resides just off the platform at Union Station in the heart of downtown Denver. Luxurious yet approachable, the stay melds Victorian touches with urban edge and Rocky Mountain vibes. The rooms are intended to evoke the romance of train travel with vintage train ads and Art Deco details. Perks for guests include multiple options for coffee, snacks, meals, and drinks; e-bikes; and a courtesy Tesla. You'll be in easy walking distance to Confluence Park, Larimer Square, and the action in LoDo. Be sure to make time for cocktails at Cooper Lounge, the hotel's mezzanine bar serving up Art Deco vibes along with excellent classic cocktails, small bites, and a bird's eye view. // 1701 Wynkoop St. (LoDo), thecrawfordhotel.com
The Ramble Hotel
Escapist vibes rule at The Ramble, an exciting 50-room boutique hotel perfectly situated between RiNo and Five Points. The hotel's design takes its inspiration from the intellectual curiosities of 17th century French salons with sultry, urban-noir vibes setting the tone from the lobby—where you can grab coffee or a matcha latte at DC/AM—to the rooms, with antique Persian rugs and pillow-top mattresses; to the highly acclaimed bar. This may surprise some coastal spirits connoisseurs, but The Ramble is home to the second location of Death & Co., New York City's famed craft cocktail institution. The restaurant, Super Mega Bien, serves festive Latin American–style dim sum and drinks. // 1280 25th St. (RiNo), theramblehotel.com
Day One: Confluence Park, Denver's Museum District + Farm-to-Table Fare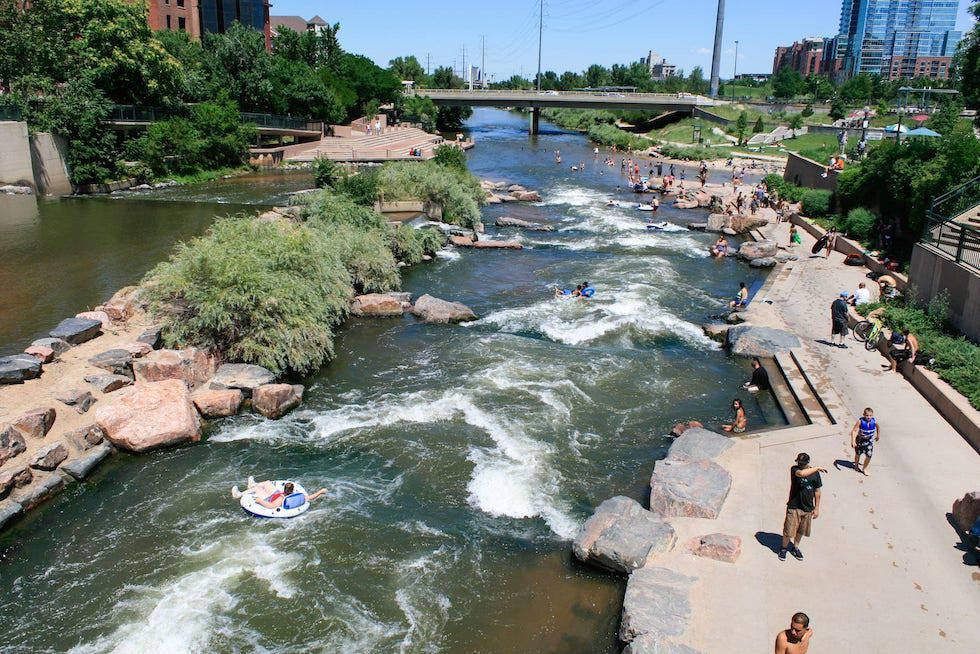 The Platte River and Cherry Creek meet at Confluence Park, the white-crested watery park at the heart of Downtown Denver. Go for a walk or bike right alongside, or get on the water by renting kayaks, tubes, and more. (Simon Foot, via Uncover Colorado)
Wake Up
The New York Times recently crowned California the nation's bagel capital, but at a historic intersection in Denver, Rosenberg's Bagels & Delicatessen (725 E. 26th Ave., Five Points) is getting homemade bagels, made with New York water, right. For a hearty breakfast, order the L.E.O. sandwich with cream cheese, lox, and scrambled eggs. Queen City Collective Coffee (2962 Welton St., Five Points), known for its sustainable, small-batch roasts, is a choice spot to enjoy a cortado and get fueled for the day.
Hit the Water
When we think of rivers in Colorado—like…the Colorado River—we tend to think of grand rafting adventures. There's plenty of that around, but not in Denver itself.
When the weather and water level are right, Confluence Park, where Cherry Creek branches off from the Platte River, is the place for urban kayaking and tubing. Confluence Kayak & Ski (2301 7th St., LoDo) is a one-stop-shop for kayak and canoe rentals and help getting out on the water. If you'd prefer to stay on land, you can rent a bike to explore the South Platte River Trail or Cherry Creek Trail, two of Denver's most popular routes for cyclists and joggers.
In the summer, tackle your outdoor activities early; afternoon thunderstorms are also a given. Also, don't forget the sunscreen.
Lunch + Snacks Near Confluence Park
Bindery (1817 Central St., Lower Highlands), located a short walk across the Highland and Millennium bridges from Confluence Park, is a lovely and relaxed café-bakery by day and a more ambitious restaurant at night. At brunch, try the anise seed beignets and soft scrambled eggs with pastrami-cured salmon.
Cross back over the Millennium Bridge which, fun fact, looks suspiciously like a mini version of the the Bay Bridge's eastern span, to find yourself at Denver's version of the San Francisco Ferry Building: Union Station (1701 Wynkoop St., LoDo). Now standing in its 1914 Beaux-Arts iteration, the station does triple duty as a transit hub, iconic photo op, and food hall. At lunchtime, Mercantile Dining & Provision, for comfort staples such as a Korean fried chicken; Stoic & Genuine for raw bar lovers; and Ultreia for tapas and G&Ts. For a more contemporary take on the mixed use complex, walk a block to Dairy Block (1800 Wazee St., LoDo) where you'll find your choice of nearly 20 restaurants, more than a half-dozen bars, and several shops including big names like Aesop, BeautyCounter, and Warby Parker.
Larimer Square + Museums in the Golden Triangle Creative District
Walk off lunch with a stroll to Larimer Square, which is really just a city block but counts as Denver's first historic district. Framed by 19th Century buildings and strung with lights, the place has that charming tourist trap quality so don't stay too long. We love it best for Garage Sale (1460 Larimer St., LoDo), a store that teams vintage from more than 45 vendors with a selection of retro vinyl plus a full bar and outdoor patio. You'll find a Goorin Bros. boutique (1410 Larimer St., LoDo) just a hat's toss away.
Head down 14th Street, past artist Lawrence Argent's 40-foot-tall "Big Blue Bear" (14th St. between Stout and Welton Sts.), to Civic Center Park, a well-manicured 12-acre urban green space situated between City Hall and the golden-domed Colorado State Capitol. Give a nod to the U.S. Mint; get a pic of the "One Mile Above Sea Level" markers near the top of the Capitol steps; then take your choice of world-class museums nearby in the Golden Triangle Creative District.
The Denver Art Museum (100 W. 14th Ave. Pkwy., Civic Center) is a giant with an abundance of everything: The permanent collection houses global artworks from ancient to modern times, ranging from Mesoamerican discoveries to Keith Haring's posthumously cast Altarpiece. Francophiles and film lovers will enjoy Paris to Hollywood (through July 18th), which examines the fashion and influence of Véronique and Gregory Peck through haute couture, film clips, and family photos. For a more niche experience, the Clyfford Still Museum (1250 Bannock St., Civic Center) is home to nearly everything the 20th Century painter ever created. The Kirkland Museum of Fine & Decorative Art (1201 Bannock St., Civic Center; temporarily closed at press time) contains more than 30,000 works including furniture and design objets by the likes of Florence Knoll, Gio Ponti, Frank Lloyd Wright, and more.
Dinner + Drinks
Tiki in Denver? Why not. Get the party started at Adrift (218 S. Broadway, Baker) where they take tropical drinks with fresh ingredients seriously. While all the standards—think mai tais and Singapore slings—are on offer, try an Adrift original and look out for the skull-and-crossbones that signal an extra-boozy beverage. The place is especially surreal on snowy nights.
Even a snobby San Franciscan is bound to admit that Denver is earning its reputation as a budding culinary powerhouse. Enjoy excellent, seasonal farm-to-table eats at either Fruition (1313 E. 6th Ave., Cheesman Park) or Potager (1109 Ogden St., Capitol Hill). Pretty much every local will point you to Sushi Den (1487 S. Pearl St.), where creative presentations of fresh fish are guaranteed to win over even the most skeptical diner wondering how such pristine sushi landed in the land-locked city.
Day Two: Brews, Art + Dinner in RiNo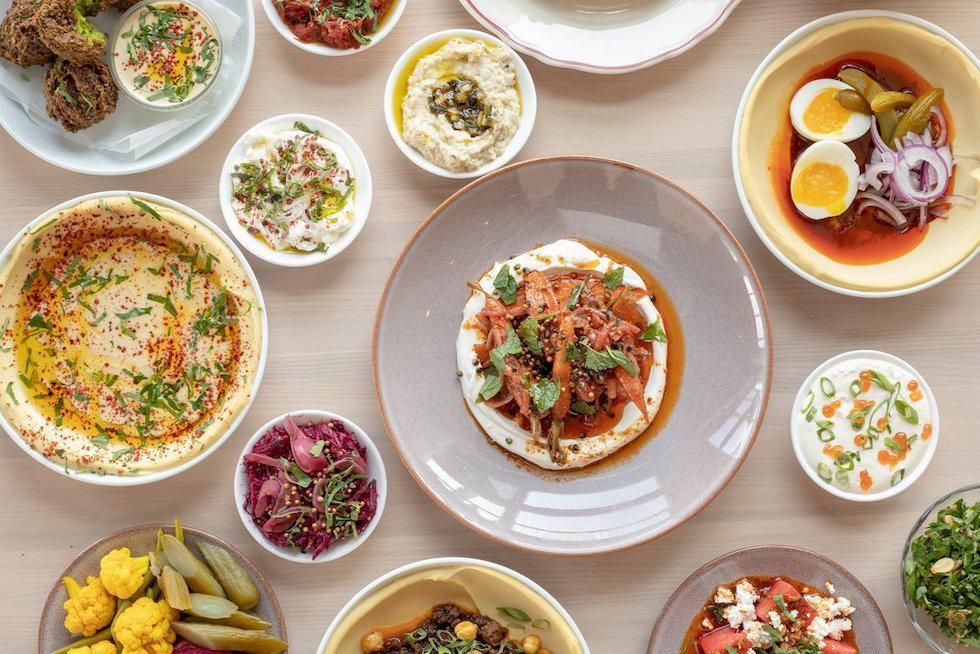 Arrive hungry at Safta, the well-loved Israeli-Mediterranean restaurant inside RiNo food hall The Source. Bring friends to share all the small plates. (Courtesy of Safta)
Boozy Brunch + Books
Get brunch at Onefold (1420 E. 18th Ave., City Park West), an upbeat daytime cafe that serves a mean bacon fried rice bowl with duck fat fried eggs and an equally mean gin and juice with freshly squeezed Valencia OJ and local Jones Family gin. More into bourbon? You'll find Denver's own Leopold Bros. bourbon in the Vietnamese iced coffee. After, take a leisurely walk or short drive to the iconic, 50-year-old Tattered Cover Book Store (2526 E. Colfax Ave.), housed in a former theater, and choose a few books to bring back home.
Botanic Gardens + Baked Goods
The 24-acre Denver Botanic Gardens (1007 York St., Cheesman Park) is a soothing urban oasis showcasing plants from the Rockies, the Great Plains, and the Southwest. Highlights include the Shofu-En Japanese garden, the impressive Science Pyramid, a tropical conservatory, and the Freyer-Newman Center that ties the horticulture to art in exhibitions such as Salvador Dáli: Gardens of the Mind (through August 22nd).
Bay Area foodies likely know Berkeley's Third Culture Bakery (2500 Lawrence St., Five Points), which recently opened a Denver outpost. The mochi muffins and donuts are just as terrific at a mile high as they are at sea level.
RiNo: Craft Beer, Street Art, and the Best Food Around
Denver is widely respected as one of the best destinations for beer lovers, and the number of breweries here is overwhelming; be ready to pick and choose. Black Project, Cerebral, Comrade, Crooked Stave, Raices, and TRVE are all standouts in town. For an easy overview of the scene, head to the RiNo-Five Points area to knock out this trio: Bierstadt Lagerhaus (2875 Blake St., RiNo), Spangalang Brewery (2736 Welton St., Five Points) and Black Shirt Brewing Co. (3719 Walnut St., RiNo).
RiNo, which stands for River North Arts District, is considered to be Denver's hippest 'hood, home to the tatted-up, third-wave-coffee-drinking artist crowd. Street art is prolific here, as are indie galleries and boutiques, restaurants, coffee shops, and live music venues. It's a great neighborhood to wander. Larimer between 25th and 27th streets is a good spot to peruse local murals.
Need a snack? On Fridays, the artist warehouse known as the Denver Central Market (2669 Larimer St., RiNo) hosts an open-air evening bazaar with nearly a dozen artisanal vendors. Meanwhile The Source (3330 Brighton Blvd.), another popular food-hall-hotel-slash-hotel, has more than 20 spots for everything from donuts to ramen to cocktails, including a spot Bay Areans will recognize: The Woods, a rooftop restaurant from New Belgium Brewing Company.
The Source is also home to one of Denver's best restaurants, Safta, the can't-miss Israeli-Mediterranean eatery from chef Alon Shaya. Come with an appetite and share lots of small things—we highly recommend the lutenitsa, labneh, and Persian rice. On our visit this past spring, the whole crispy Moroccan striped bass with spiced pepper sauce frankly blew our SF food snob minds.
Hopefully you're staying nearby at the Ramble Hotel so you can easily swing into Death & Co. (1280 25th St., Five Points) for a nightcap before bed. Open till midnight Thursday through Saturday, the cocktail mecca offers full table service indoors and the garden. The hardest part is deciding what to order. Do you like your drinks more Bright & Confident or Boozy & Honest?
​Day Three: Day Trips From Denver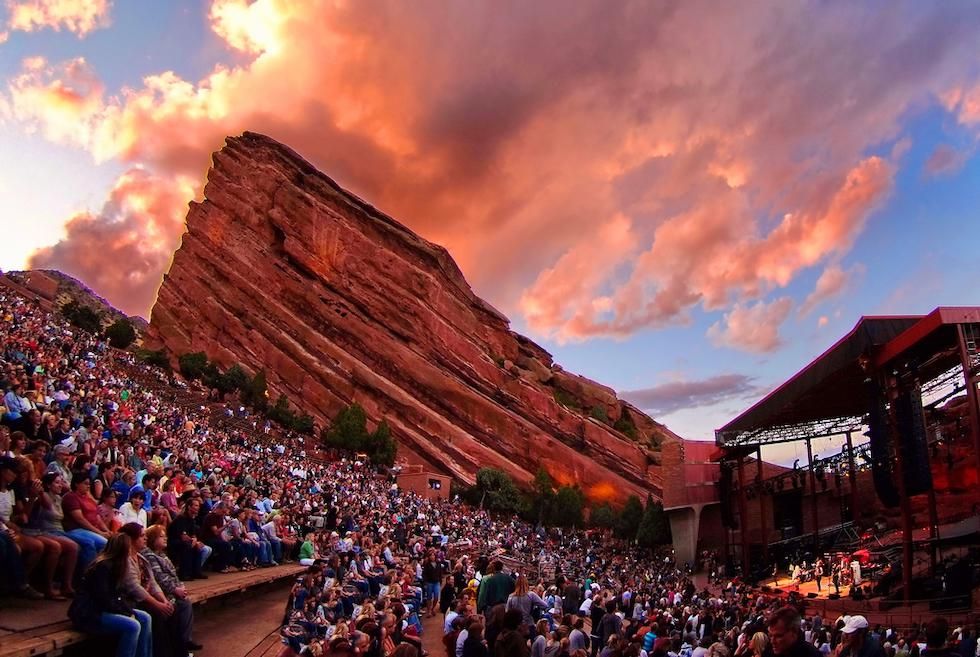 See whatever band you like at Red Rocks Amphitheater—the show will be epic. (Stevie Crecelius, via Denver.org)
Burritos for Breakfast
One of Denver's best assets is its proximity to the mountains: This means day trips. Chart your course over what many consider Denver's signature dish: a green chile–smothered burrito. You'll find the best breakfast version at El Taco de Mexico (714 Santa Fe Dr., Central), named one of America's Classics by the James Beard Foundation in 2020.
Day Trips from Denver
During ski season, you'll want to head west, but expect everyone else to be doing the same along the I-70 corridor. To avoid gridlock, hop on the Winter Park Express, which will take you from Union Station to the slopes stress-free in just two hours.
Not ski season? It's hiking season! (Never mind that there might still be snow on the ground in June. Plan ahead, bring layers.) Rocky Mountain National Park's eastern gateway town of Estes Park is a 90-minute drive from Denver. That said, this park is 415 square miles encompassing over 300 miles of trails. You may want more than a day to tackle it.
Boulder is another excellent day trip option for nature lovers. Its location at the base of the beautiful Flatirons makes it easy to get out and have fun in the mountains and foothills. Head to the Chautauqua Trailhead and hike the Flatirons Loop or, if you're more ambitious, hike up to Royal Arch for views all the way to Denver. Post-hike, lunch on charcuterie at Blackbelly (1606 Conestoga Ct.) and grab a beer at Uhl's Brewing (5460 Conestoga Ct). Top-notch contemporary dinners are to be had at Frasca Food and Wine (1738 Pearl St.). After you grub, take a stroll down the energetic Pearl Street Mall.
Just a half-hour drive from central Denver, Red Rocks Amphitheater (18300 W Alameda Pkwy in Morrison) is a spectacular spot to catch an acoustically perfect live show—or even to just hike around the majestic sandstone outcroppings. The Beatles played here. Hendrix played here. Headliners in 2021 include Ben Harper, Shakey Graves, and The Avett Brothers.